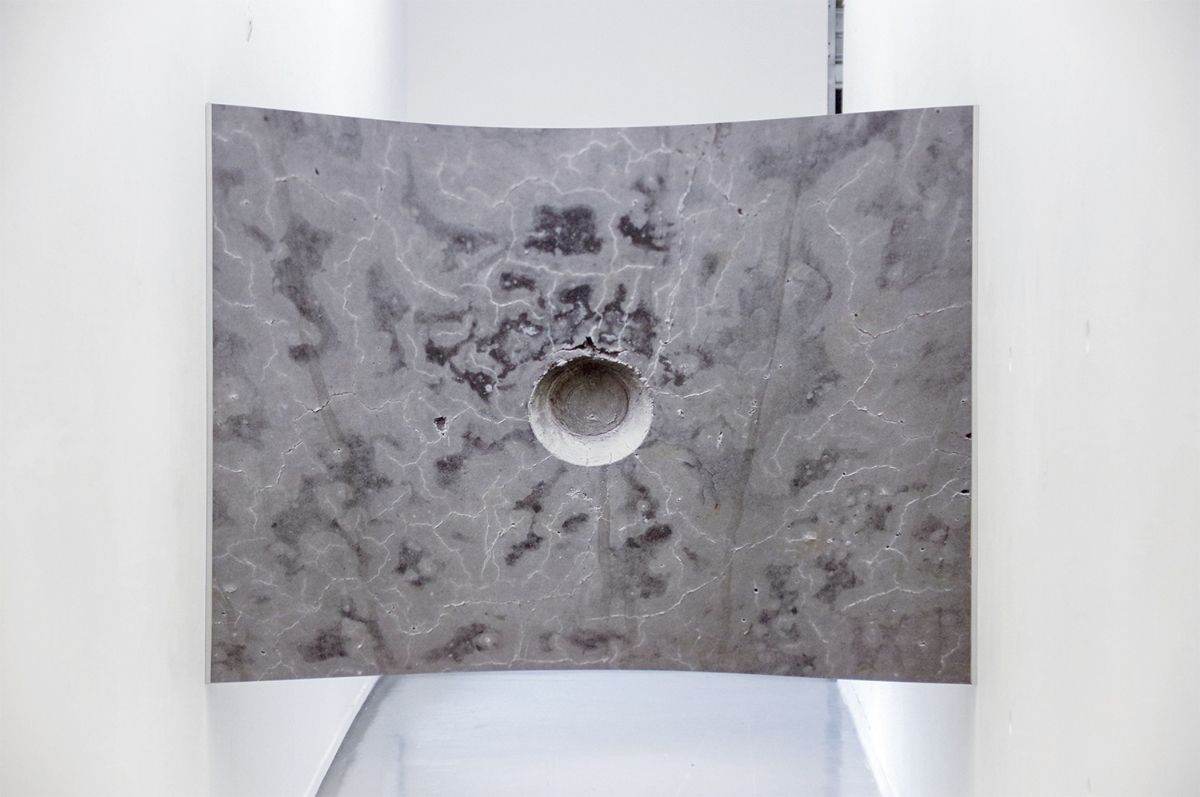 UV Print on Forex, Aluminium rails
200 x 132 cm
2020
 
DE
Das Ausstellungsgebäude der Kunstuniversität Tourcoing/Lille wurde als Funktionsbau zum Zweck des Ausstellens eigens gebaut. Doch wie wie in zahlreichen Beispielen unsensibel geplanter Architektur, wurde dabei nicht auf die Bedürfnisse der Benutzer Rücksicht genommen und dabei reine Sichtbetonwände im Innenraum verwendet, die sich für die zahlreichen Ausstellungen, in denen doch auch öfters mit den Wänden gearbeitet wird, als äusserst unpraktisch erwiesen haben. Die sogenannten Ankerlöcher, die beim Verspannen der Betonschalungen zurückbleiben, sind nach wie vor gut sichtbar und funktionieren in der Art dekorativer und sinnentleerter Ornamente in diesem postmodernistischen White Cube.

Das Bildmotiv der Arbeit weist auf solch ein Ankerloch hin und wurde, auf Forex direktgedruckt, in den viel zu engen und ebenfalls unpraktikabeln Rampengang im Ausstellungsraum gespannt.
Site specific installation for 'PHOTO-dimensions' 30.01. – 11.02.2020
at Galerie Commune in Tourcoing
with Felicity Hammond, Constance Nouvel, Bianca Pedrina
by Marine Allibert, PhD student in visual arts, CEAC, Université de Lille

In the years 2010, singular photographic artworks appear in the practices of young contemporary artists. They are distinguished by their way of composing and materializing space on a two- or even three-dimensional plane. These new "three-dimensional photographic practices" require special attention and question our usual conceptions of photography. What do they consist of? What images and forms do they produce?