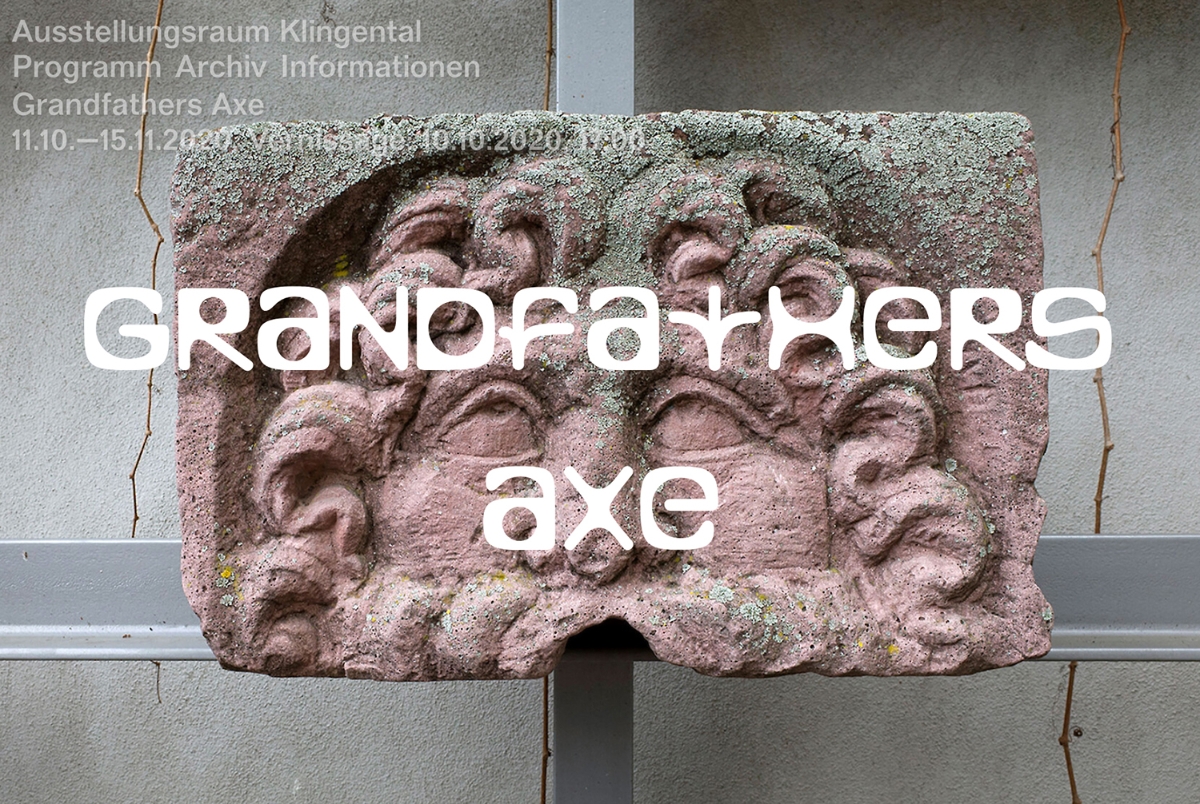 Grandfather's Axe
Ausstellungsraum Klingental Basel
11.10. — 15.11.2020
with
Anna Maria Balint
Michiel Huijben
Karsten Födinger
Valle Medina, Benjamin Reynolds (Pa.LaC.E)
Christian Kosmas Mayer
Superstudio
The group exhibition is accompanied by a publication.
Curated by Bianca Pedrina
 
10.10.2020
Opening
Performance by Christian Kosmas Mayer and kalkwerk
18.10.2020
Video Screening
with Gina Kim, Thomas Haemmerli, Claudia Larcher, Martin Chramosta, Sasha Pirker & Michael Klein, Goran Galic & Gian-Reto Gredig
«Grandfather's Axe» also well-known as the «Ship of Theseus» is a paradox that has been discussed since antiquity.
Does an object lose its identity when many or even all of its individual parts are replaced or renewed one after the other? Can we still speak of the same axe after the handle and head have been replaced one after the other? What about the identity of a place? What exactly constitutes a place? To what extent is the identity of a building, a room or a place influenced, shaped and formed by its past, present and future components?
The Klingental exhibition space is surrounded by historical layers, which are not only expressed as geological and archaeological finds and results of measuring, but are also anchored in an immaterial form - for example in collective memory, in individual associations, by medieval looking facades or in things that are not even spoken.
Following the current urban planning interventions in the Basel barracks area, the artistic positions in the exhibition Grandfather's Axe deal with how a cityscape is formed, how a city is perceived and question its history and the memories associated with them. In particular, the exhibition addresses the materiality of these questions and their geological characteristics, and at the same time treats them as speculative future scenarios. The different positions are concentrated on the space, in order to understand it, its history and its conditions or they take the Klingental exhibition space as a starting point to explore overarching and fundamental questions about architecture and places.

DE
«Die Axt des Grossvaters» auch besser bekannt in der Variante des «Schiff des Theseus» ist ein Paradoxon, das seit der Antike diskutiert wird. Verliert ein Objekt seine Identität, wenn viele oder gar alle seine Einzelteile nacheinander ausgetauscht oder erneuert werden? Können wir immer noch von derselben Axt sprechen, nachdem nacheinander Stiel und Kopf ersetzt wurden? Wie verhält es sich mit der Identität eines Ortes? Was genau macht einen Ort aus? Inwiefern wird die Identität eines Gebäudes, eines Raumes oder eines Platzes durch seine vergangenen, gegenwärtigen und zukünftigen Bestandteile beeinflusst, geprägt und geformt?
Der Ausstellungsraum Klingental ist umgeben von historischen Schichten, die nicht nur Ausdruck in geologischen und archäologischen Funden und Messergebnissen finden, sondern auch in immaterieller Form verankert sind – etwa im kollektiven Gedächtnis, in individuellen Assoziationen, hervorgerufen durch mittelalterlich aussehende Fassaden oder vielleicht Dingen die sich nicht verbalisieren lassen.
Ausgehend von den aktuell stattfindenden städtebaulichen Eingriffen in das Basler Kasernenareal setzen sich die künstlerischen Positionen in der Ausstellung Grandfather's Axe damit auseinander, wie sich ein Stadtbild formt, wie eine Stadt wahrgenommen wird und fragen nach ihrer Geschichte und den damit verbundenen Erinnerungen. Insbesondere geht die Ausstellung diesen Fragen bezüglich Materialität und geologischer Beschaffenheit nach und entwirft und behandelt gleichzeitig spekulative Zukunftsszenarien.
Die unterschiedlichen Positionen konzentrieren sich dabei auf der einen Seite auf den Raum, um ihn, seine Geschichte und seine Bedingungen zu untersuchen, oder nehmen den Ausstellungsraum Klingental zum Ausgangspunkt, um übergreifende und grundsätzliche Fragen zu Architektur und Orten zu stellen.
Read online: ISSUU
This magazine is published in conjunction with the exhibition
'Grandfather's Axe'
Ausstellungsraum Klingental, Kasernenstrasse 23, 4058 Basel
10.10.2020 – 15.11.2020
www.ausstellungsraum.ch
/
Participating artists:
Anna Maria Balint
Karsten Födinger
Michiel Huijben
Valle Medina, Benjamin Reynolds (Pa.LaC.E)
Christian Kosmas Mayer
Superstudio
Curator: Bianca Pedrina
Accompanied for Ausstellungsraum Klingental by Simon Krebs and Gerome Gadient
/
Authors:
Anne Huijbers, medievalist and lecturer at Universität Basel
Bianca Pedrina, artist and curator of the show 'Grandfather's Axe'
Yuki Higashino, artist and author, based in Vienna
Robin Monotti Graziadei, architect, lecturer and film producer based in London
Mélanie Corre, artist and illustrator based in Amsterdam
/
Editing: Bianca Pedrina
Copy Editing: Stefan Karrer, Cornelia Lein
Design: Aljoscha Lanz
Edition: 500