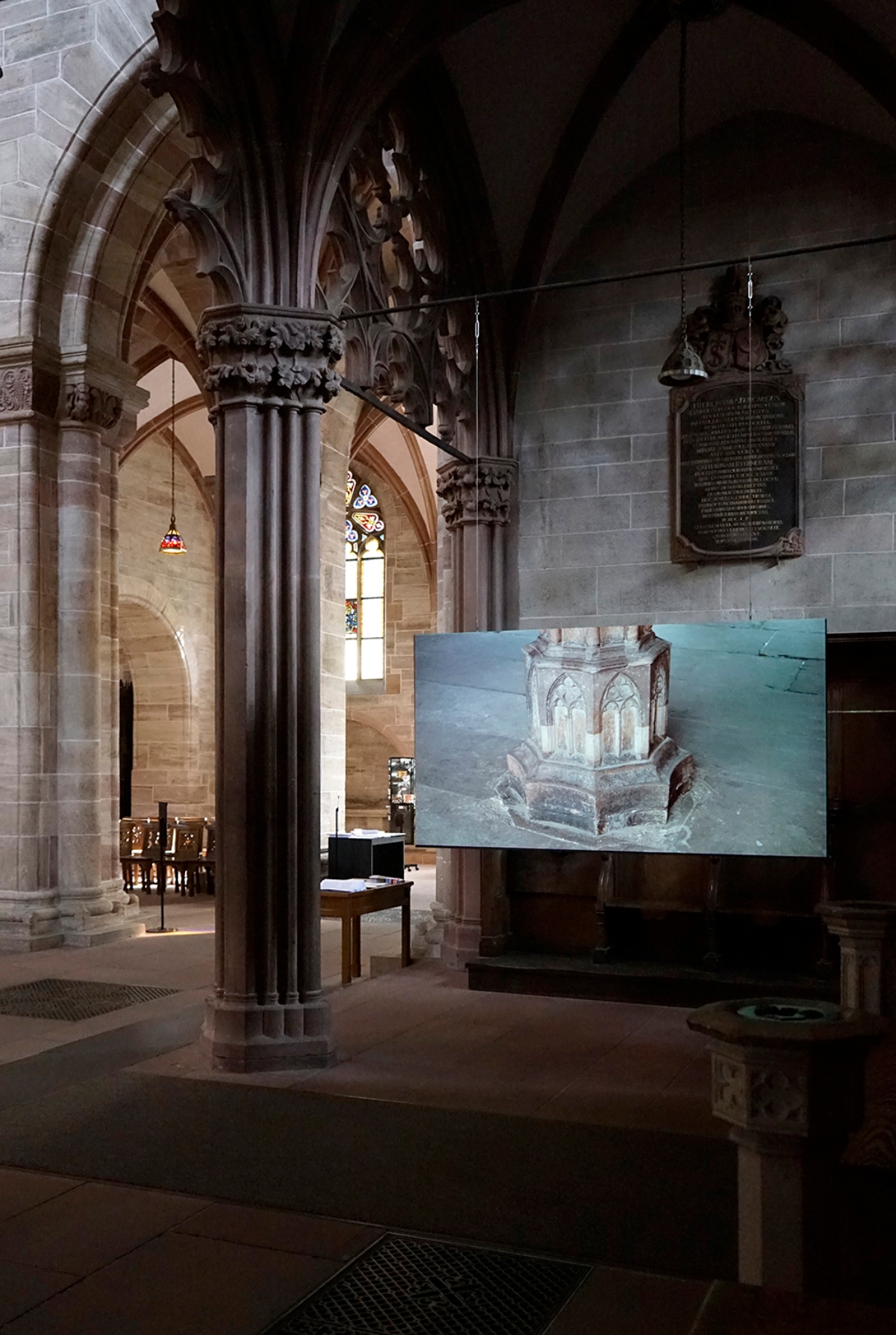 Video loop 9'30", full-HD
2015
Installation view, Basler Münster
Documenting time:
With "Haus aus Sand " Bianca Pedrina introduces her first video work, incorporating her multi-layered experience as a photographic artist.
The focus of this video projection is the traces that have been inscribed over the centuries in the surfaces and architectural structures of the Basel Cathedral, along with the constant changes that the architectural monument has experienced and endured to this day. Historical intertwining of creating, changing and preserving can be read on the surface of the cathedral. Countless master builders, stonemasons and craftsmen have worked on the building and every believer or visitor has left the finest traces. What has been built, preserved and used by man is also subject to various environmental influences: climate, erosion, tectonic and geophysical phenomena.

"Haus aus Sand" sets viewers in a mode of slow and close observation, inviting them to follow tracks to be discovered on the surface of the construction. Pedrina casts a precise but not judgmental eye on superficial details, allowing us to observe, for example, black traces of soot from the 19th-century coal heating system, remnants of the former red painting, or patchworks of different stones.
A diversity of structures, topographies, and color palettes opens up before our eyes. The cathedral thus becomes a living organism that transcends time, and the house of sand tells its story in a succession of visual impressions.
DE:
Mit "Haus aus Sand" zeigt Bianca Pedrina ihre erste filmische Arbeit und lässt in diese ihre vielschichtige Erfahrung als fotografisch arbeitende Künstlerin einfliessen.
Im Fokus dieser Videoprojektion stehen die Spuren, die sich über die Jahrhunderte in die Oberflächen und architektonischen Strukturen des Basler Münsters eingeschrieben haben, sowie die stetigen Veränderungen, die das Baudenkmal bis heute erlebt und erträgt. Das historische Ineinanderfliessen von Erschaffen, Verändern und Bewahren ist an der Oberfläche des Münsters ablesbar. Unzählige Baumeister, Steinmetze und Handwerker haben an den Bau Hand angelegt und jeder Gläubige oder Besucher hat feinste Spuren hinterlassen. Das vom Menschen Erbaute, Bewahrte und Genutzte ist zudem diversen Umwelteinflüssen ausgesetzt: Klima, Erosion, tektonische und geophysikalische Phänomene.

"Haus aus Sand" versetzt die Betrachter in einen Modus des langsamen und genauen Betrachtens und lädt ein, den Spuren zu folgen, die an der Oberfläche des Bauwerks zu entdecken sind. Pedrina wirft zwar einen genauen, jedoch keinen wertenden Blick auf Oberflächendetails und lässt uns etwa schwarze Russspuren der Kohleheizung aus dem 19. Jahrhundert, Reste der ehemaligen roten Bemalung oder Patchworks aus unterschiedlichen Gesteinen betrachten.
Vor unserm Auge eröffnet sich eine Vielfalt an Strukturen, Topografien und Farbspielen. Das Münster wird so zu einem lebenden, die Zeit überdauernden Organismus, und Haus aus Sand erzählt dessen Geschichte in einer Abfolge von visuellen Berührungen.
Text: Françoise Theis