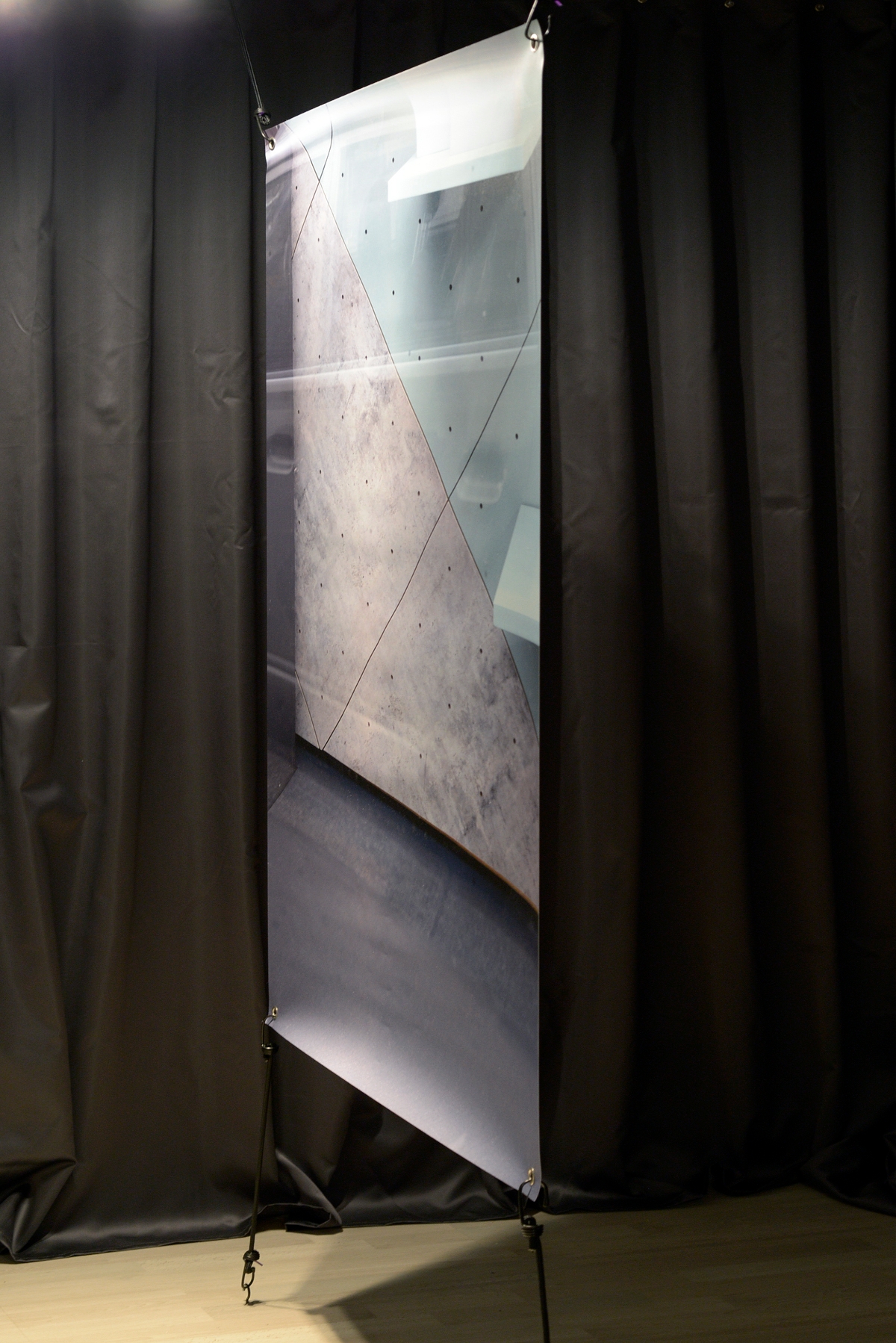 dispositif au cube
Inkjet print on PVC tile, Tether
2 parts, 150 x 100 cm, Dimensions variable
2014
Installation view utengasse sechzig, Basel
EN:
To the power of three: referenced, reflective, re-enacting. In its site-specific installation DISPOSITIF AU CUBE Bianca Pedrina references the format of the display window and questions its relevance in the social and artistic context in several ways. The showcase as an instrument of exhibiting begs for discussion: something that is shown in a showcase, becomes something of an exhibit. It is staged, shown and speaks to us.
The two photographs that are shown were obtained during the theatrical production of a performance without a venue at Utengasse. The empty stage in an empty space spanned over three planes and is is superimposed in the photographs: the detail of a storefront decoration, a shop window, the mirror image of the façade from across the street.
Through the means of photography, installation and staging, the reflection in the showcase window leads to a another reflected glance in the showcase-dispositive of a completely different dimension. The condition of photographing with the aforementioned three levels carries one over to the viewer's situation. A game of mental and physical levels, of surface and space; of mirror and image; of localization and obscurity unravels in the DISPOSITIF AU CUBE work.
By means of transfers starting out from a promotional dispositive, an artistic reflection on the topic of surfaces, textures, images, objects and materials transpires. Not least of all DISPOSITIF AU CUBE raises the question of how two dispositifs, whose roots lie in two separate regions – on the one hand the social, economic and public space and on the other hand the artistic context – engage in a dialogue. In a kind of (reverse) grafting, a complex new type arises, which can also be read as an infinite recursion – a reiterating type of grafting; the sprout from a valuable plant to a less valuable one – the progression of grafting fits in an infinite recursion.

Text by: Françoise Theis
DE:
HOCH DREI: referenzierend, reflektierend, re-enacting
In ihrer auf mehrfache Weise ortsspezifischen Installation DISPOSITIF AU CUBE referiert Bianca Pedrina auf das Format des Schaufenster-Displays und befragt dessen Bedeutung im gesellschaftlichen und künstlerischen Kontext. Der Schaukasten als Vehikel des Ausstellens steht dabei zur Diskussion: Indem etwas in einem Schaukasten gezeigt wird, wird dieses etwas zum Exponaten. Es ist inszeniert, wird gezeigt und spricht uns an.

Die beiden gezeigten Fotografien erhalten in der Inszenierung an der Utengasse einen theatralen Auftritt ohne Verortung. Im leeren Raum ‑ der leeren Bühne ‑ aufgespannt, werden in den Fotografien selbst drei Ebenen überlagert: der Ausschnitt einer Schaufenster-Dekoration, die Schaufensterscheibe, das Spiegelbild der gegenüber liegenden Fassadenfront.

Dieser reflektierte Blick in einen Schaukasten wird durch die künstlerische Arbeit mit den Mitteln der Fotografie, Installation und Inszenierung zu einem weiteren wiederum reflektierten Blick in ein Schaukasten-Dispositiv ganz anderer Dimension. Die Situation der fotografischen Aufnahme mit den erwähnten drei Ebenen überträgt sich auf die Betrachter-Situation. Ein Spiel mentaler und physischer Ebenen, von Fläche und Raum, von Spiegel und Bild, von Verortung und Verunklärung entspinnt sich in DISPOSITIF AU CUBE.

Mit Mitteln des Transfers wird ausgehend von einem Werbe-Dispositiv eine künstlerische Reflexion über Oberflächen, Strukturen, Bilder, Objekte und Materialien geführt. Nicht zuletzt stellt sich in DISPOSITIF AU CUBE die Frage, wie zwei Dispositive, deren Wurzeln vordergründig in zwei unterschiedlichen Bereichen liegen ‑ gemeint sind einerseits der soziale, ökonomische und öffentliche Raum und andererseits der Kunstkontext ‑ in einen Dialog treten. In einer Art (umgekehrter) Pfropfung* erwächst hier ein komplexes Neue, welches auch als Iteration einer unendlichen Rekursion** gelesen werden kann.

*pfropfen: den Spross eines wertvollen Gewächses auf ein weniger wertvolles zur Veredlung aufsetzen (vgl. Duden.de)
**unendliche Rekursion:

Text: Françoise Theis